Boruto Chapter 36 – Jigen's Plan For Boruto & Kawaki!
I don't know about the anime but Boruto manga has been getting pretty good lately. We got a break last month so we got the chapter early this time. There's also an important announcement. Boruto is leaving Weekly Shonen Jump and is not shifting to V-Jump permanently starting from the next chapter. Well, then before we begin, let's take a quick look at the latest Boruto chapter 35 first. The chapter was really pretty good.
Boruto Chapter 35 Summary
Boruto Chapter 35 is titled 'It's Up To You'. The chapter started out with Kurama surprising Kawaki as he came out of nowhere. Kurama tries to explain but Kawaki is in denial. Kawaki then calms down and analyzes the situation. He quickly identifies Kurama as one of the 'bijyuu' and concludes that Naruto is pretty strong as Kurama and everyone helped him become the Hokage. Then Kurama corrects him by telling him that Naruto's life wasn't easy and until recently, he was shunned by nearly everyone.
He was always alone and if anything Kawaki resembles Naruto the most. Kurama then tells him about Naruto, his parents and everything. He even mentioned the infamous swing Naruto used to play and cry on all alone. In the end, Kawaki asks if he could become like Naruto and Kurama says that nothing is stopping him and it's all up to him. Then tears start flowing from Kawaki's left eye and it's really beautiful. Then we have Kawaki training with Naruto and Boruto. He's completed the chakra control training.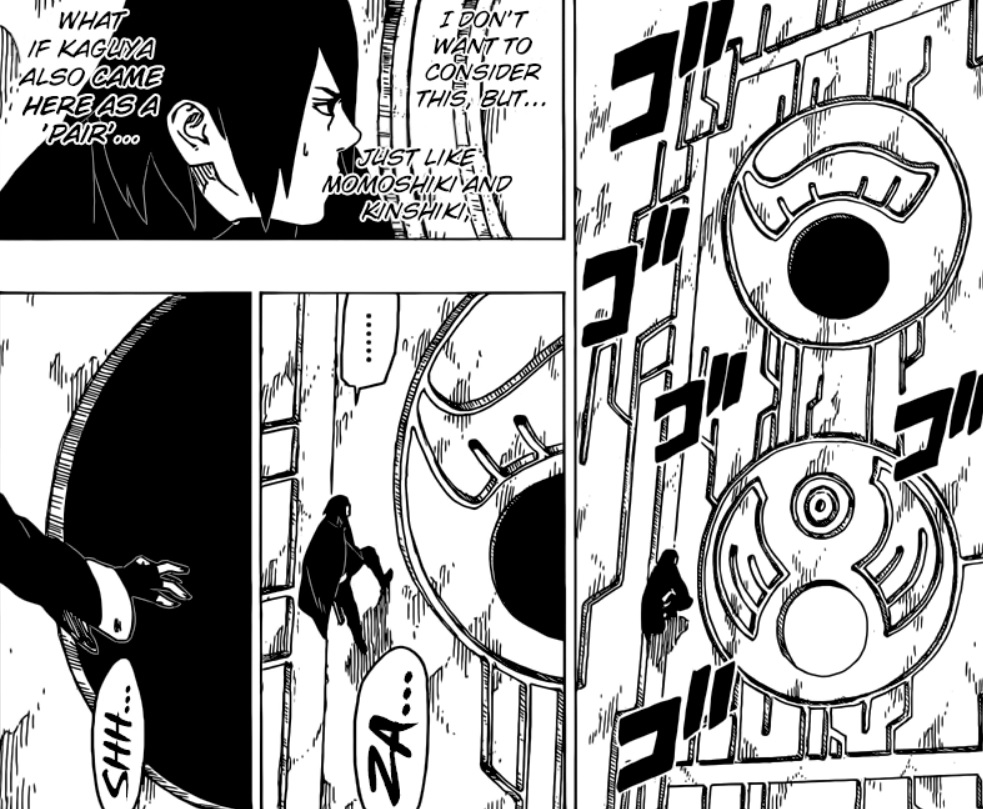 Then we have Shikamaru and Sai talking about the data Konohamaru brought back. There are some coordinates which can be traveled to only by using space/time ninjutsu. It's obviously a trap but someone needs to investigate it and then we get to know that Sasuke is already on his way. Sasuke reaches a place which looks an entirely different planet/dimension. It looks like Otsutsuki's planet but it's not confirmed. There are 3 pairs of symbols on a wall which resembles the Otsutsuki villains.
We have already seen 4 of them. The first pair was eliminated, Kaguya is also eliminated and the 4th one escaped. Sasuke concludes that Kaguya was also paired with an Otsutsuki when she came to Earth. When Sasuke touches the symbol, just like the others, an image of the Otsutsuki paired with Kaguya comes forward. Then suddenly a roar is heard and Sasuke notices that there's something below the pedestal. He checks it out and he's shocked to see that there's a huge 'bijyuu' inside there who just looks like the Ten-Tails.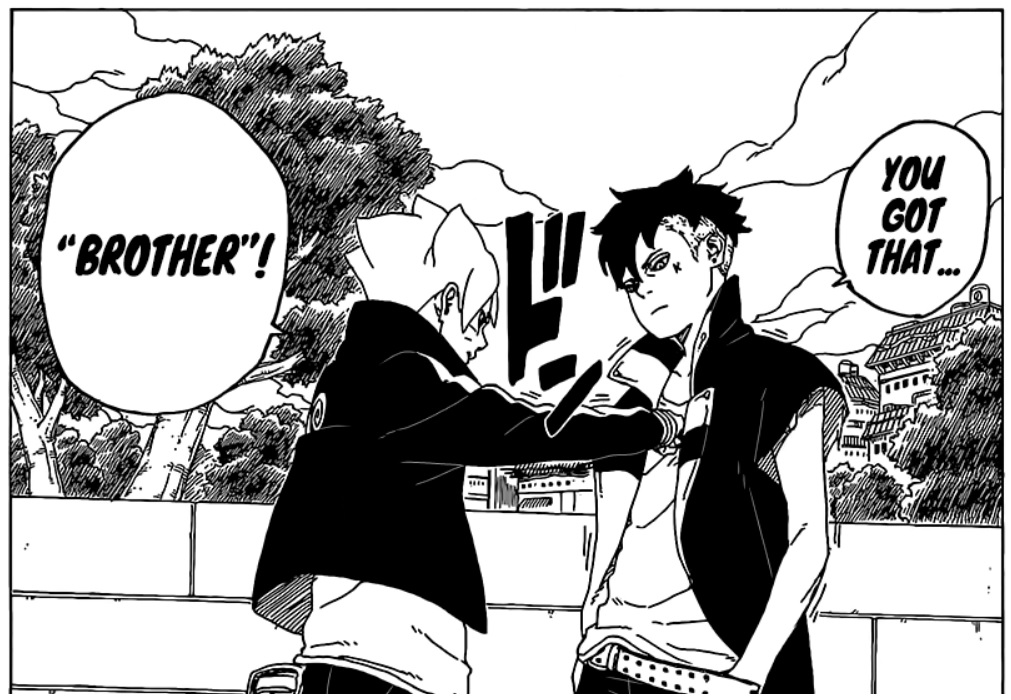 Then we see the Boruto & co talking with Naruto. They are discussing a lot of things. It ends at the note with Boruto and Kawaki pledging to crush Jigen and Kara together. Boruto also called Kawaki his brother which is pretty huge seeing how they are going to clash as enemies in the end. Back to Sasuke now. The bijyuu has rinnegan and is being shackled by stakes. Then suddenly Jigen entered the place with his space/time ninjutsu. Sasuke identifies him and is surprised to see him here. Jigen enters inside the pedestal and says, "Hey Jyuubi… Have you been a good boy..?"
Now that is epic. The Jyuubi tries to eat Jigen but Jigen reminds him that it's too soon for him to be eaten up as he first needs to complete the vessel. Then Jigen absorbs some of the chakra from Jyuubi as he needs it for his plan. The Karma on his chin starts extending but with the Karma, his body starts transforming as well. Jigen assumes a form which looks just like the Otsutsuki Sasuke saw before. Sasuke starts sweating seeing him in person.
Sasuke analyzes that this situation is way too dangerous and he needs to inform Naruto about this as soon as possible. On the other hand, Jigen after powering up is ready to go meet the two vessels. He's talking about Boruto and Kawaki. Then we have Mitsuki and Boruto talking about Karma. Boruto says that nothing will stop him as he's Sasuke's student, Hokage's son and on top of that he's a ninja! The chapter ends right there.
Boruto Chapter 36 Spoilers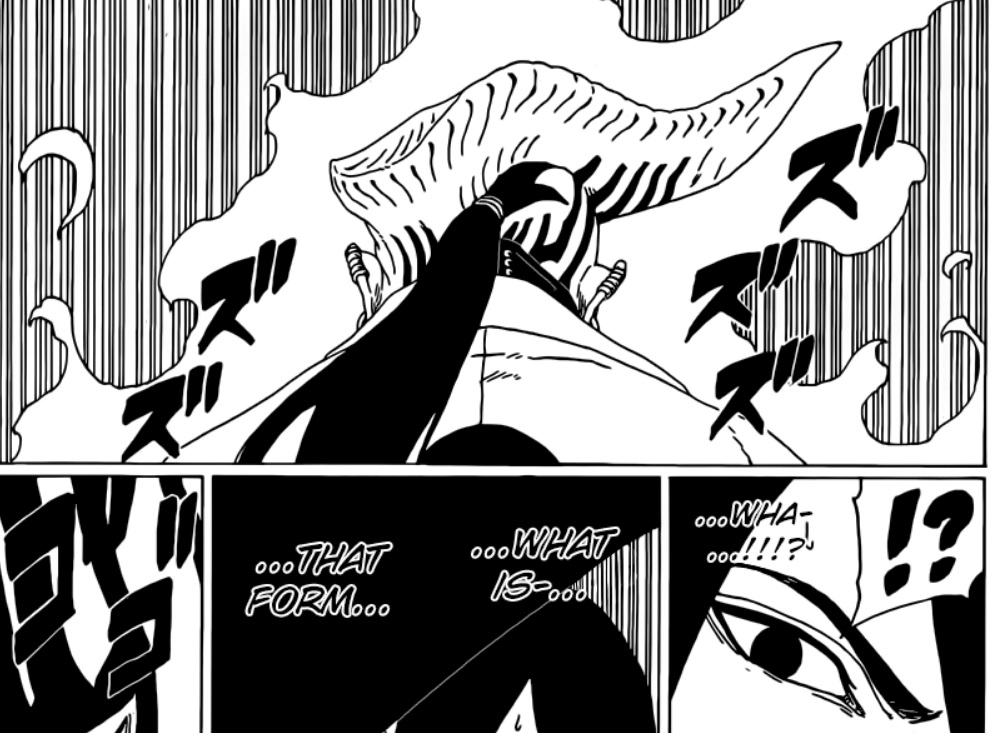 Boruto Chapter 36 is most probably going to show Jigen's encounter with the vessels in one way or another. It has also been indirectly confirmed that Jigen is indeed the Otsutsuki who was paired up with Kaguya. That explains how he knows everything about Kaguya and the Otsutsuki. In Boruto Chapter 36, I think they might shed some light over this whole vessel thing as well. Kawaki is Jigen's vessel while Boruto is Momoshiki's vessel. Things are going to get really interesting!
Boruto Chapter 36 Release Date
Boruto Chapter 36 will be out next month. Boruto Chapter 36 release date is July 20, 2019 (Official Release). The raw scans and spoilers will be out by July 18, 2019.  We will let you guys know if there's any other update!