Dragon Ball Super Chapter 55 – Merus, Moro & The Angels!?
I am really liking this arc but I wish we could get chapters weekly as waiting a whole month is really tiring. We got to see so much action in the latest chapter and maybe an indirect connection Merus was revealed in the end. The latest chapter was just released and you can read it on Mangaplus or Viz. I also want you guys to check out WargoSciFi as he's an amazing artist. The cover image was made by him and I simply love it. Well, let's check out the latest chapter before we talk about Dragon Ball Super Chapter 55.
Dragon Ball Super Chapter 54 Summary
The Z fighters are fighting 7 3 and it seems like it's Gohan's time to shine this time. Gohan is fighting 7 3 on a very even scale. We see 7 3 use a lot of Namekian techniques and just as Gohan was going to fire a point-blank Kamehameha, he changed his abilities to that of Moro's. Now he started absorbing all the energy making our fighters very weak. The remaining enemies easily took care of Z fighters but Moro ordered them to return as Moro wants them to get stronger and absorb even more energy. His arrogance shows no limit.  They were lucky but 7 3 is extremely dangerous with his abilities. Then we have Merus training with Goku where Merus reveals that he doesn't need to eat or drink anything. Goku connects this with Whis and the angels. Merus seems like an angel and everyone is speculating the same thing. Then we have Whis talking with the Grand Priest about the events happening in Universe 7. They have to remain neutral and cannot take sides but Whis & Grand Priest talks about Merus and this rule. So suspicious and the chapter ends on a cliffhanger – "Could it be?".
Dragon Ball Super Chapter 55 Spoilers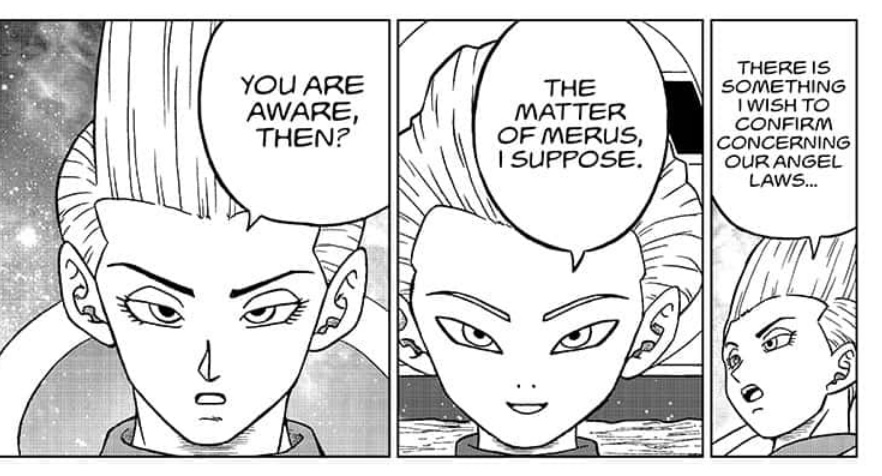 I hope Dragon Ball Super Chapter 55 will focus on Merus' real identity and his connection to Moro. I think there's definitely a connection here but Moro didn't react when he met Merus so it could just be speculation. Even then, I am sure that there's a connection between Merus and the angels. He practically looks like their cousin or some type of half breed. Dragon Ball Super Chapter 55 should surely focus on the connection and speed up the pace. We would also be grateful if we could see some Vegeta scenes as there were literally 0 Vegeta scenes in the latest issue.
Dragon Ball Super Chapter 55 Release Date
Dragon Ball Super Chapter 55 will be out next month. Dragon Ball Super Chapter 55 release date is December 20, 2019 (Official Release). The raw scans and spoilers will be out by December 18, 2019.  We will let you guys know if there's any other update!