Universe 6 Reveals Info About The Legendary Super Saiyan!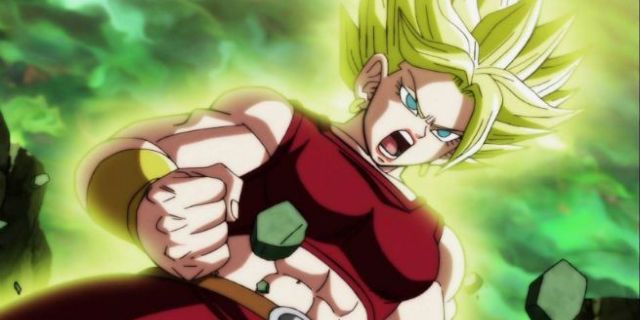 We recently got the latest chapter of the ongoing Dragon Ball Super manga which opened up a lot of secrets that the Dragon Ball fan community is fighting on for ages. In the chapter, we got to see something really phenomenal which was very important for the Saiyans and their history.
We saw Kale from Universe 6, going berserk and releasing all this energy which attracted even the Gods watching the Tournament of Power. Kale going Super Saiyan was something really else. Even Frieza was surprised seeing this type of a Super Saiyan. There was something different about Kale. Well, the old Dragon Ball Z fans knew what was up but the new watchers weren't.
Kale's true potential quickly sent chills over everyone's back. Even her allies were shook with terror as Kale wasn't able to tell allies different from enemies. At that moment, Dragon Ball Super finally made the 'Legendary Super Saiyan' canon. They officially named Kale with that title.
There were some errors in the early translations where the Legendary Super Saiyan was dubbed as something else which was just completely wrong. Even then, this moment was a big milestone for the franchise. In the manga, Caulifla was confused and didn't know what was happening to her protege while Cabba knew something and said the following in a shaky voice –
Cabba: "Maybe Kale… Is the Legendary Saiyan?"
Caulifla: "The Legendary Saiyan? You mean that demonic Saiyan that only shows up once every 1,000 years?"
Cabba: "Once they awaken, it's all over. Their power keeps growing, and they rampage until they basically self-destruct."
This is really a big moment for all the fans as they are finally getting some information about the Legendary Saiyan history and lore. We all knew that Broly was linked to this term before but Kale is officially the first canon Legendary Super Saiyan to exist. We know the Broly movie is coming out in December which would also touch the facts on the Saiyan history.
What's your take on this legendary transformation? I really liked it and I am liking how the manga is shaping up too. It won't be long before we get to see the Ultra Instinct Goku too. That would be one big fight between Goku and Jiren!