Black Clover Chapter 209 – Asta & Yuno's New Sword Powers!
For the last few chapters, Asta, Lumiere, Licht were in the limelight while Yuno is not showing off much but all this changed with the latest Black Clover chapter. Yuno is finally back in action and I know that all of you are gonna love his part in this chapter. We are also getting near the demon/devil which is inside Asta's grimoire. It would be really cool once they finally reveal his identity and real powers. Well, let's take a look at Black Clover Chapter 208.
Black Clover Chapter 208 Summary
Black Clover Chapter 208 is titled as 'Sword' as we are going to see something very special related to Swords. This chapter has 2 beautiful two-page spreads in the end and it's simply beautiful. The chapter starts with Adrian and Gueldre (former purple orca captain) talking about the whole scene. Adrian is thinking about how they survived the black mass just because of Gueldre's magic. Then we have Yami and Charlotte talking about Licht's attack.
Yami's arm is somewhat healed and now he can join the fight. Yami can still sense the Devil. For some reason, Yami's dark magic works on him so he's thinking of delivering a lethal blow on him as the only other person who can fight the Devil right now is maybe just Asta.  On Asta's place, his sword is overflowing with a power he cannot control. Lumiere asks if Asta is using Licht's sword but Secre says that it is not Licht's and the anti-magic power that dwells in Asta's sword is from a different devil.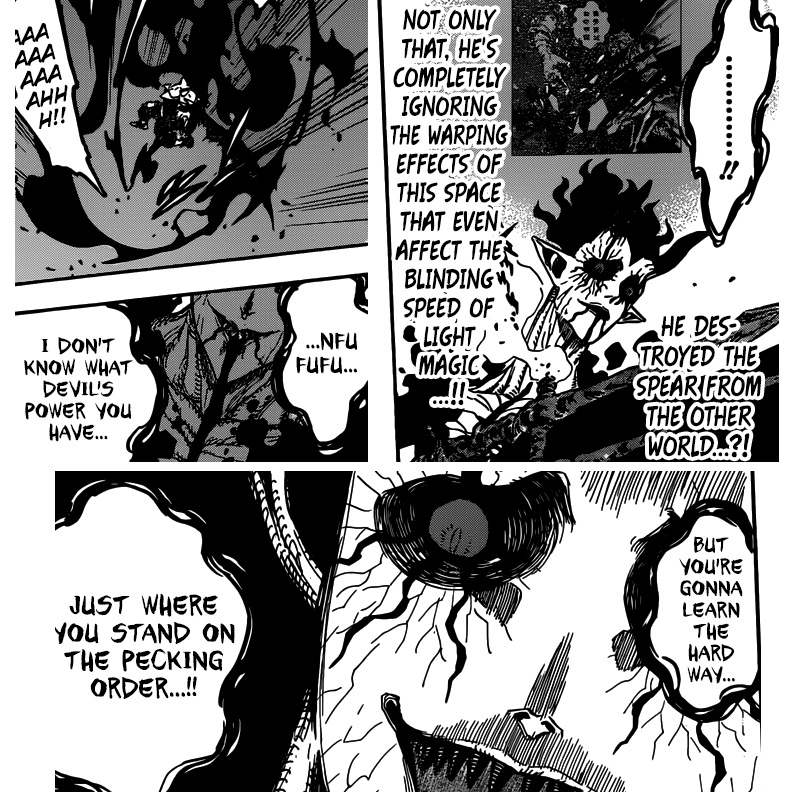 The power is too much for Asta as the sword automatically goes toward the Word Devil. The Devil is laughing but his smile turned sour instantly as Asta broke his spear instantly. We should focus on the 'other world' as well. Is it the world where all the devils/demons reside? We will know soon enough. The Devil is surprised but he's confident that he can still defeat all of them. The Devil summons a lot of monsters from the black mass that's spreading around.
Lumiere saves him but Asta's sword immediately attacks Lumiere as it reacted to his immense magical power. Patri, on the other hand, is agonizing over the fact that he cannot do anything even with the 4 leaf grimoire. He then uses the power of Dark Elf to fight back. Asta is trying to control his power while Lumiere is praising Asta's power. Secre asks if she should use sealing magic to remove Asta's restraint but Lumiere stops her.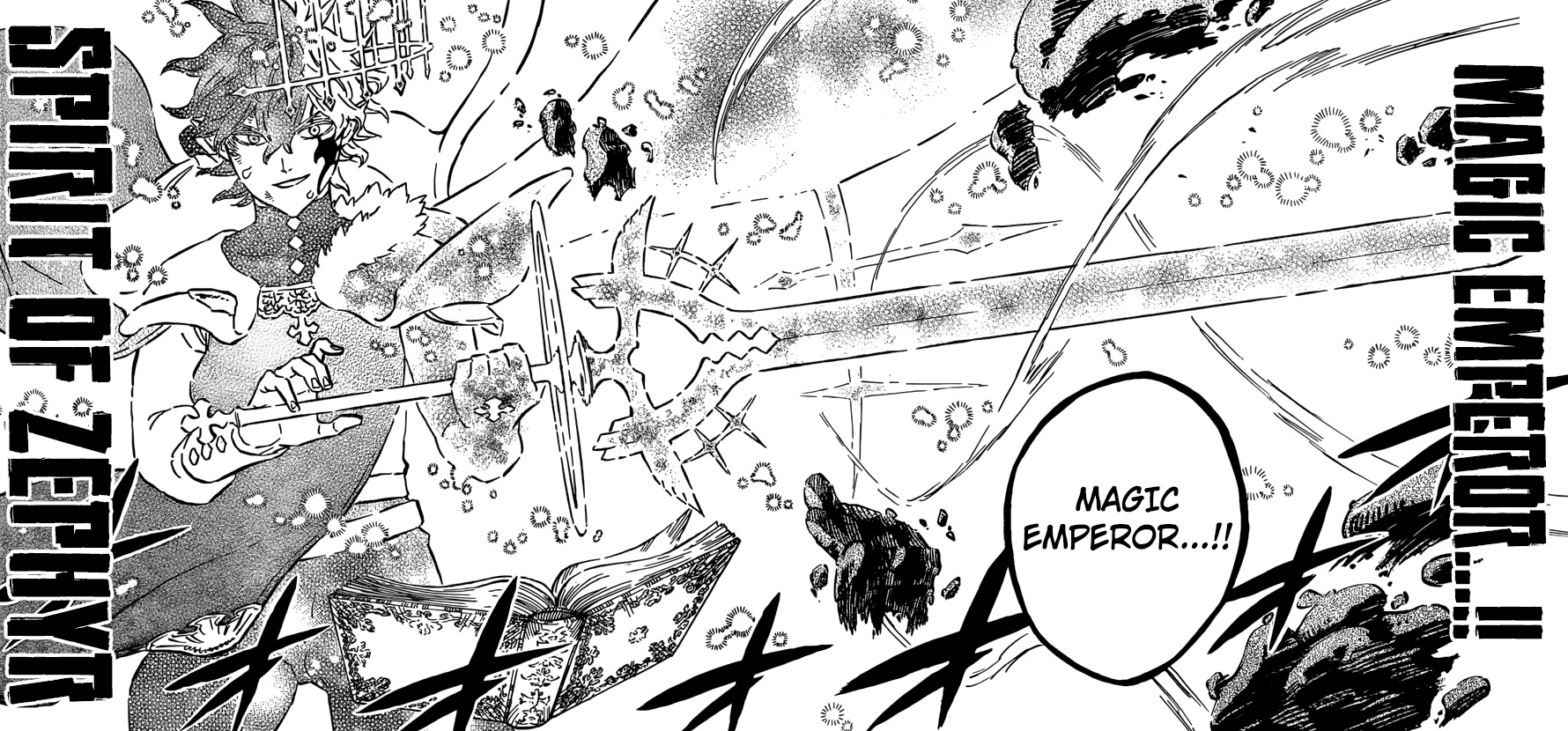 This is it. Yuno steps in and mocks Asta again for lagging behind. Yuno is using a brand new power which is called Spirit of Zephyr. Lumiere explains that Yuno is condensing all the magic in the air and transformed it into a sword which will work on the Devil. Asta instantly replies back by saying that he has figured out how to use his power. Asta is ready to fight with his Anti-Magic Demon-Slaying Sword Black Divider! It looks so epic and the chapter ends right there.

Black Clover Chapter 209 Spoilers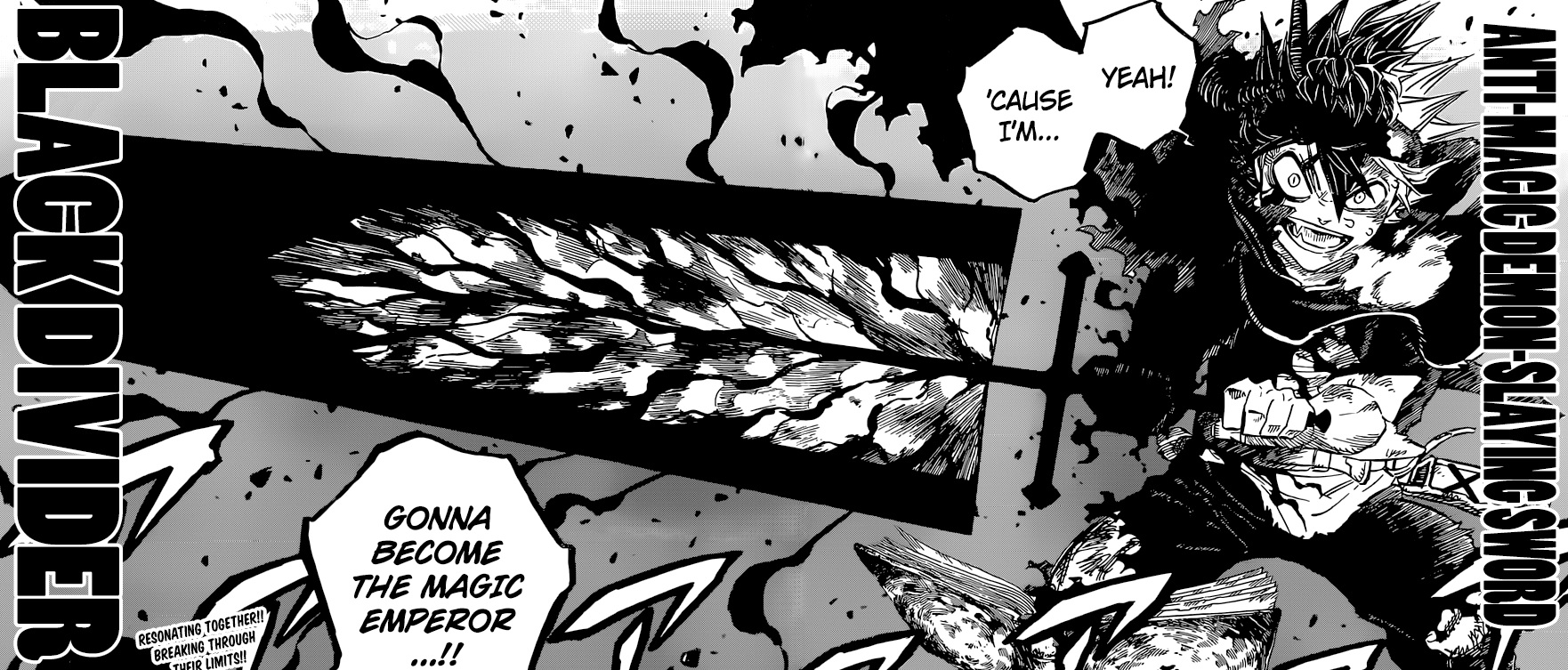 Black Clover Chapter 209 is going to show us the battle between Asta, Yuno and the Word Devil.  Asta and Yuno have unlocked new swords (sword powers) which will help them fight the Devil. The artwork was really amazing and I hope that the quality in Black Clover Chapter 209 remains the same. I seriously can't wait for this fight. The ultimate duo Yuno & Asta against the Devil. It's also amazing how Yuno is also using a sword now!
Black Clover Chapter 209 Release Date
Black Clover Chapter 209 will be out next week. Black Clover Chapter 209 release date is June 16, 2019 (Official Release). The raw scans and spoilers will be out by June 14, 2019.  We will let you guys know if there's any other update!