Oda Reveals How Luffy, Zoro & Ace Would Look Like In The Future!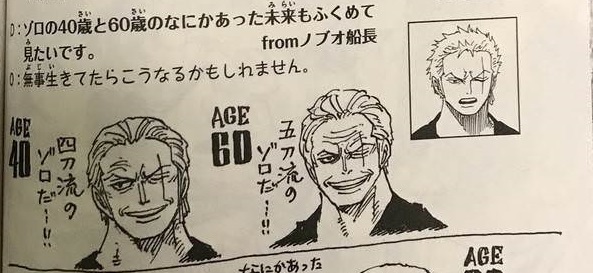 We are finally on the last one now – Zoro! Q: "I want to see the future of Zoro at age 40 and 60 as well!" From Captain Nobuo. Oda: "If he lives on without any major problems, I think it would be something like this" Age 40: Yontoryuu (Four sword style); Zoro Age 60: Gotoryuu (Five sword style) Zoro Damn, Zoro is really giving some ex admiral type of vibes. I really like this style. Also, it seems like he won't open his other eye.

Now at the worst case scenario. "In a future where "something" happens" –  Zoro Age 40: I'm quitting. Holding that katana in my mouth has made my back hurt;  Zoro Age 60: I'll do dogeza (kneeling down) if you'll lend me some money. Zoro quitting because his back hurts? That is some bad joke now. Zoro kneeling down… this man kneeling down for some money? I would rather die than see something like that happen!