One Piece 907 Just Revealed A Legendary Yonko Pirate Crew!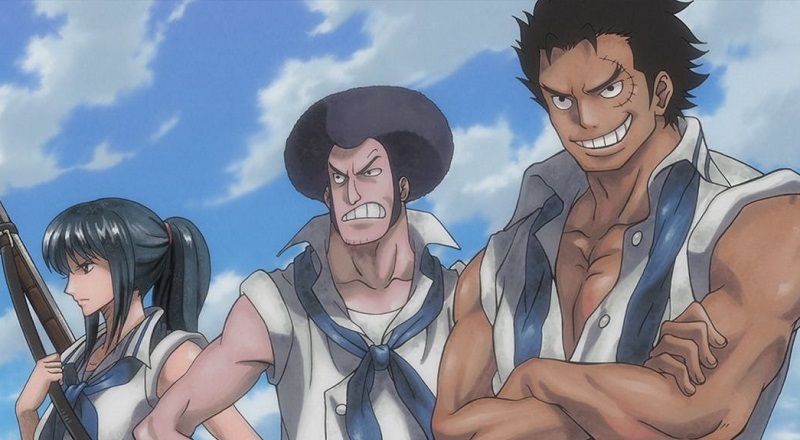 One Piece chapter 907 just got released a few days back and it was such a good chapter. I wanted to make an article as soon as possible for you guys but I really didn't want to spoil the content so fast for you guys. Well, as said before, this Reverie arc is only going to be 10 chapters long but is going to contain a lot of information as we can see right now.
In the starting of the chapter, we have Garp and the other marines dining on a table and talking about things. There, Hina asked Garp, aren't you concerned about Kaido and Big Mom meeting up as they are targeting Luffy. Garp said, he doesn't even care.
Here, we got something huge. Hina just blurted out this statement – "They're the reason you're called the hero of the marines, aren't they?" What in the world did she say… Isn't Garp known as the hero because he always went toe to toe against Gol D. Roger?! Isn't that what we all, the One Piece fandom believe? Well, today guys, you got to know the truth. IT IS NOT!
So there was this 'legendary' pirate crew named 'Locks'. (It can also be 'Rocks' but Mangastream translated it as Locks) Garp defeated their caption or a part of their crew leading them to disband. Garp clearly states that before Roger came into the picture, 'the age was theirs'. Even though it was 40 years ago, from now. Now, why should we worry about this crew? Like isn't this one of the old legends?
WELL, this pirate crew had KAIDO and BIG MOM as their members! Can you believe this? Just imagine how strong the other top members would be. Hina also says this, "Even if they've lost their captain, they've only become stronger. I am worried." Now, that is worrisome and gives me chills.
In chapter 907 Big Mom contacts Kaido and tells him that she intends to be the one to deal with Luffy, saying that Kaido still owes her a great debt from a long time ago. Linlin insists that they cooperate on this just like the old times and be good to each other. Now, that is just straight up black mailing. Even Kaido looks a bit frightened there now.
Very recently Oda stated that a legend which lurks in the One Piece World will be introduced in Wano and it will be Luffy's greatest enemy ever. Can this legend be related to the Locks Pirate crew? Can they be the one related to the Wano arc? Who is the 'certain pirate' that Shanks want to talk about with the Gorosei?!