Black Clover Chapter 207 – Asta Blocks The Devil!
Black Clover's Devil arc is really amazing. I am loving every part of it. When was the last time I was enjoying a manga to this extent!? Back in 2011-12 when Naruto was still going on? The latest chapter of Black Clover was also pretty good. We finally got the reunion but I think the fans are gonna love this image down below much more! Well, let's first discuss Black Clover Chapter 205! (The cover pic was made by @WRATHINUSS)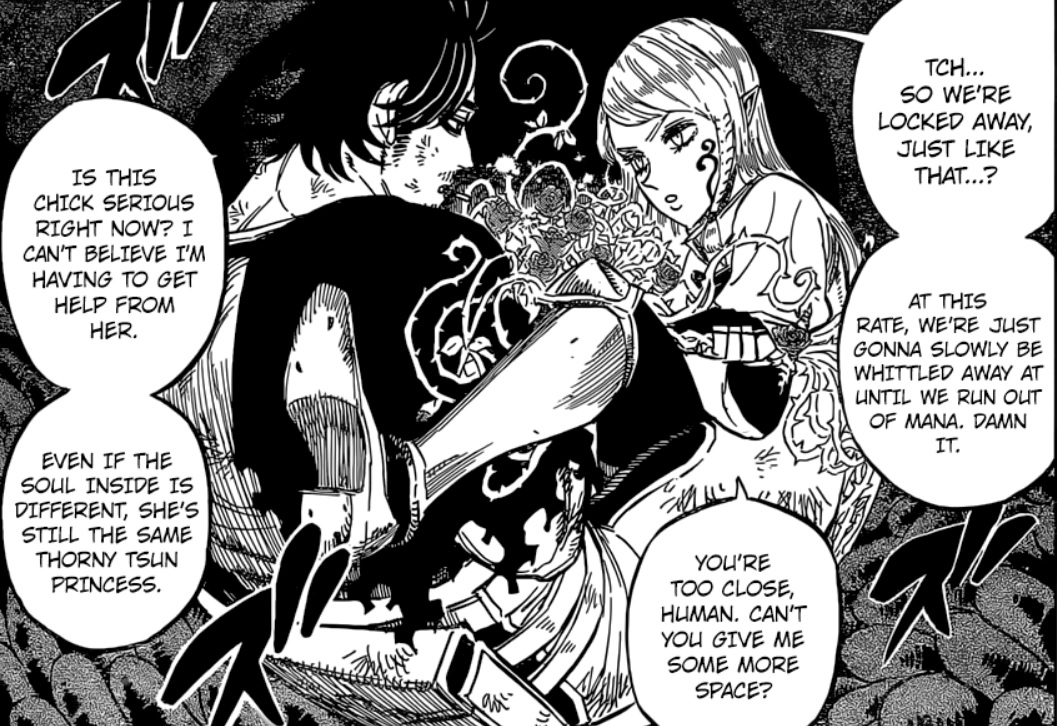 Black Clover Chapter 206 Summary
Black Clover Chapter 206 titled 'The Reunion That Crosses Space-Time' started with the most unexpected panels. We have Yami and Charla confined in a black sphere where Charla is healing Yami's wounds. I know this is not our original Charla but still, I think the fans are gonna love this. I am pretty sure the original Charla is seeing everything from her subconsciousness. Now, we are back at the battle against Devil where Lumiere and Secre finally joined us.
Yuno is shocked and Asta is going crazy as they can easily identify Lumiere – the legendary first Wizard King! Even Yuno is restless. Asta notices Secre and thinks that she feels very familiar. He still doesn't know that it's Nero. Lumiere and Secre without wasting any time tend to Licht. Lumiere asks Secre if she can wake him up as his reincarnation is complete but his soul is still bound. It's revealed that Secre's sealing magic can break any seal.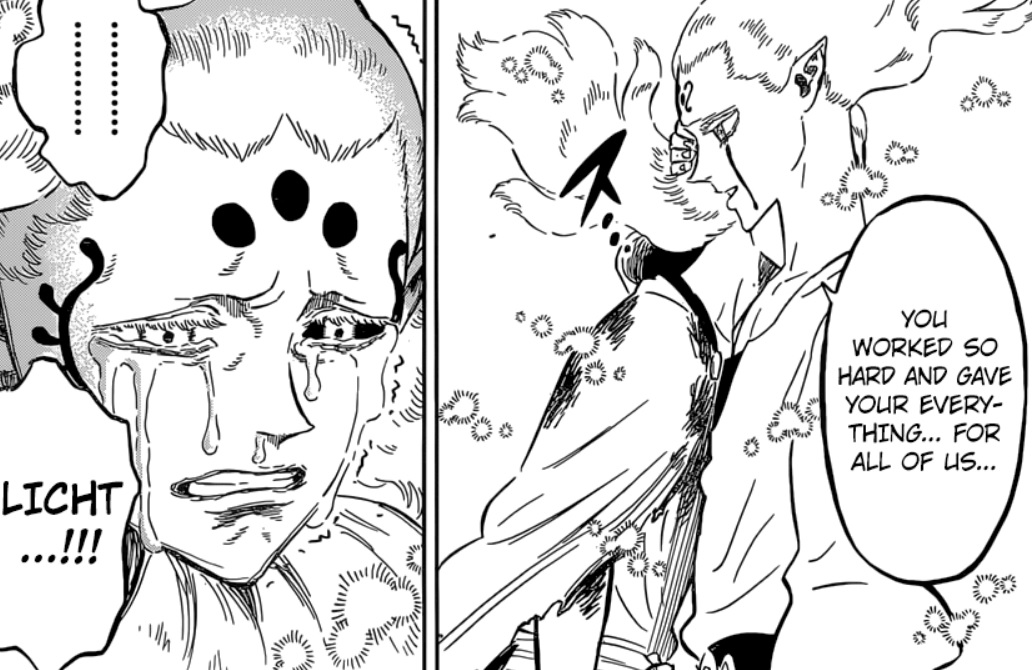 Licht wakes up and thanks Lumiere for defeating him 500 years ago. The Devil is laughing seeing this reunion. He promised them that this time he will surely bury both of them together without any problems. Licht then goes to Patri and tells him that he was observing everything for the past 500 years. He talked about it and hugged Patri assuring him that it's okay. Then the fight between Lumiere, Licht and the Devil starts to take place.
The Devil is surprised to see that both of them have the power to disperse the 'magic'  that swallows the magic of THIS world. The Devil realizes that it's maybe possible because Licht is the caster of that Grand Class forbidden spell 500 years ago and Lumiere is the one who absorbed all the mana. Both of them are under its effects. This is shaping up pretty nicely! Lumiere then throws a light sword at the Devil but the Devil dodges just to realize that Licht is behind him.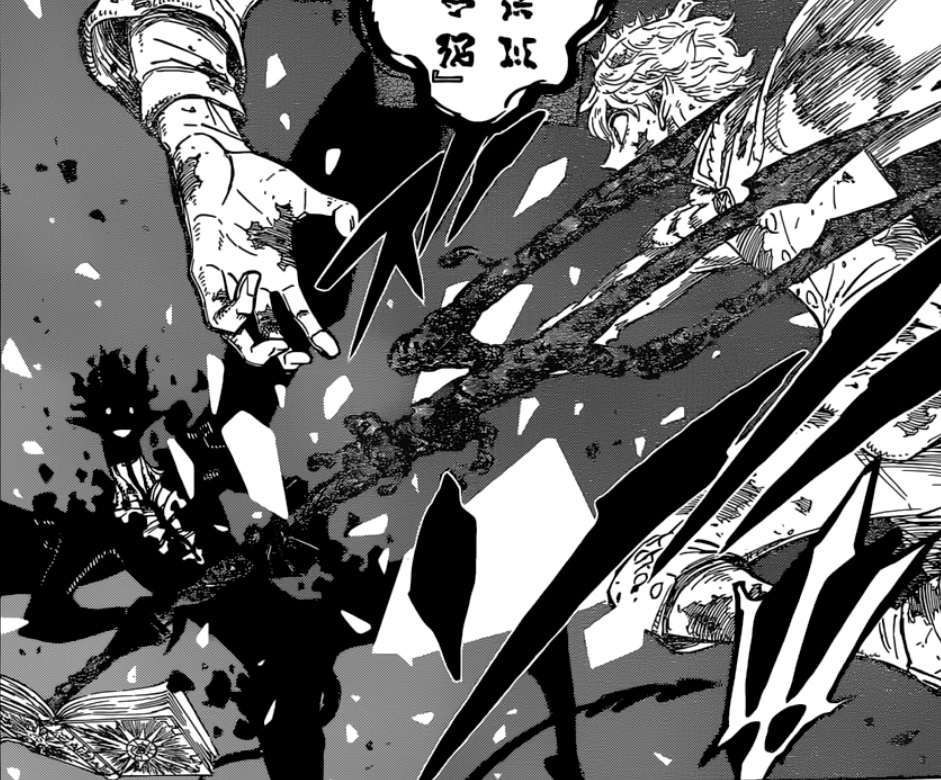 Licht absorbs the attack and then they both hit him together. Even the Devil realizes the incredible power of this combo attack as he is unable to respond with his word magic quickly enough. Lumiere stabs him with his magic but then the Devil summons a 'pitchfork' and tears off Lumiere's hand. The Devil explains that as now he owns a physical body and this grimoire, no one can kill him. Just at this moment, Yuno throws Asta at the Devil to block his attack. Everyone's thinking the same thing at this moment – "Anti-magic just might work!" and the chapter ends there.

Black Clover Chapter 207 Spoilers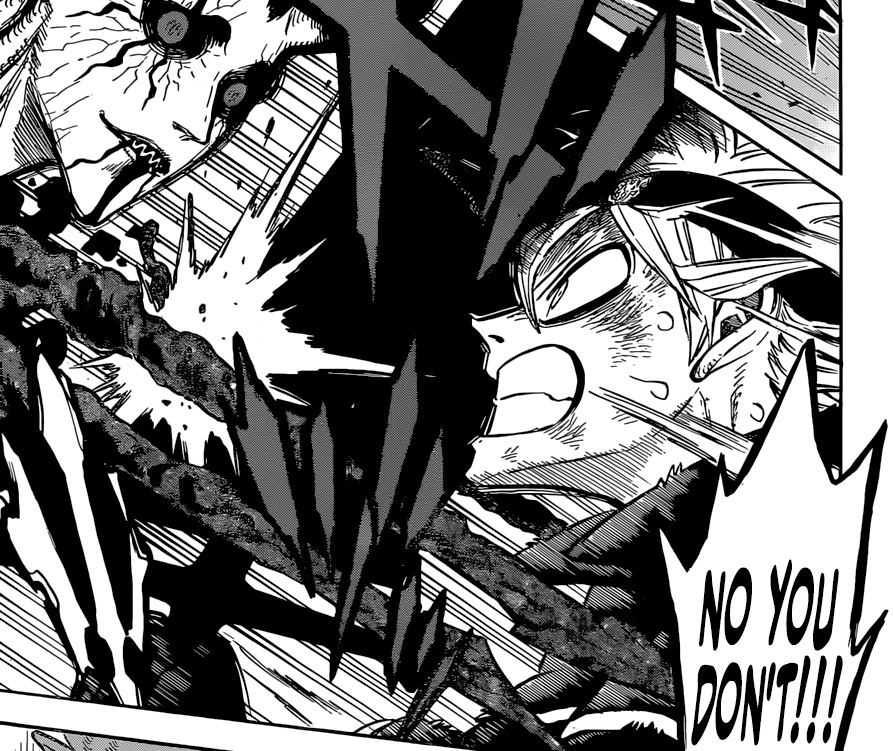 Black Clover Chapter 207 is most probably going to start off with Asta pissing off the Devil again with his anti-magic. I hope they show more about the Devil inside Asta's grimoire in Black Clover Chapter 207 as I am sure there are a lot of more devils out there in some dimension. The wiki confirms it that the anti-magic power belongs to Asta's Devil. Even then, it's going to be a tough fight. Anti-magic alone cannot do anything. I think this arc will go on for about 10-20 chapters more. I really can't wait for Black Clover Chapter 207.
Black Clover Chapter 207 Release Date
Black Clover Chapter 207 will be out next week. Black Clover Chapter 207 release date is June 2, 2019. If there's any change in the dates, we will let you guys know!