Dragon Ball Super Chapter 57 – Universe 7 Is Back In Action Including Yamcha!
The hype is too much for me! The way they are building up the whole thing is making everyone go crazy! Just what things will we see in the final fight against Moro? They are bringing everyone into the fighting arena now as things are slowly getting heated up! Also, one old fan-favorite character is also making a return which might just make some of the Wolf Fang Fist fans really happy! Let's see some details about the latest chapter before we go to Dragon Ball Super Chapter 57. You can read it on Mangaplus or Viz absolutely free!
Dragon Ball Super Chapter 56 Summary
The chapter starts by showing us that a whole fleet of Galactic Patrol is here on Earth to fight against Moro's minions. Joining the galactic patrol are the old Z-fighters who are itching for a fight! We even have Yamcha and Chiaotzu joining the group! Meanwhile, Moro's minion started attacking different parts of the Earth to rob their treasures. The Z-fighters disperse to take care of the small fries. We even see Gohan use a brand new move which is a shield of some kind that blocked 7 3's attack. While 7 3 was losing, he resorted to using Moro's technique but he was stopped by our Android duo 17 & 18! It seems like Androids are immune to Moro's energy absorption technique! Meanwhile, Vegeta is training until Moro joins the fight and Goku is just lost in the Universe. Typical Goku.
Dragon Ball Super Chapter 57 Spoilers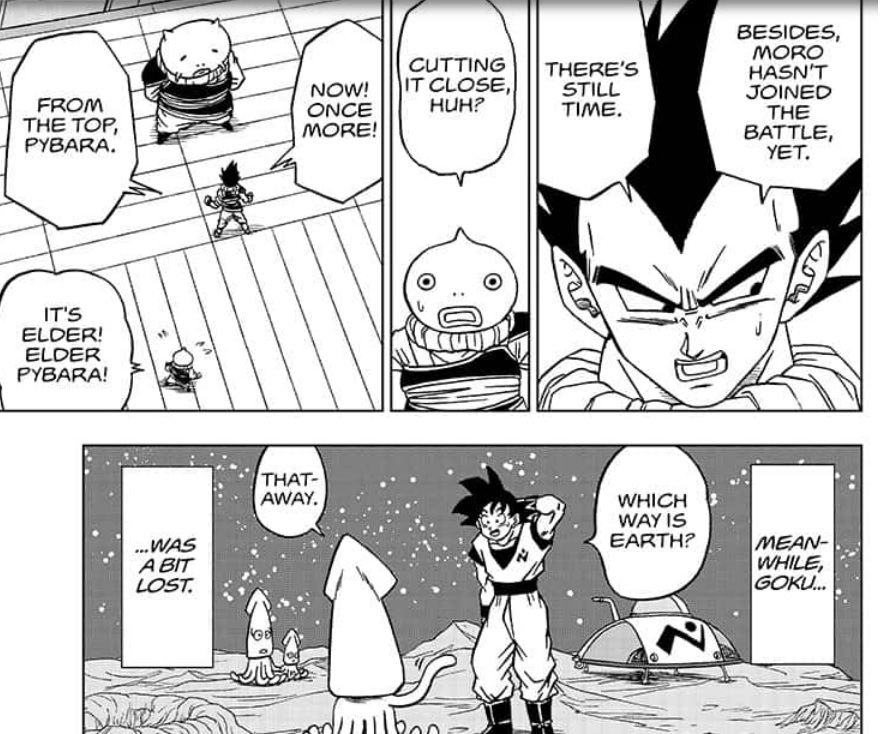 I think they are going to show a battle between the Androids and Moro as it would be interesting to see how Moro fights them in Dragon Ball Super Chapter 57. Vegeta is not going to stop training until he perfects the secret technique or Moro actually enters the fight. I don't know if we will see anything related to Goku in Dragon Ball Super Chapter 57 as he's just roaming around the Universe. I think they will bring him during the climax like the cliche movie scenes. I hope that at least in Dragon Ball Super Chapter 57, they show Vegeta's secret technique as we already know Goku is not getting anything new in this arc except maybe his control over Ultra Instinct.
Dragon Ball Super Chapter 57 Release Date
Dragon Ball Super Chapter 57 will be out next month. Dragon Ball Super Chapter 57 release date is February 20, 2020 (Official Release). The raw scans and spoilers will be out by February 18, 2020.  We will let you guys know if there's any other update!