Dragon Ball Super Chapter 62 – Moro Eliminates Everyone!
The latest chapter Dragon Ball Super Chapter 62 was just released, and it was one of the most hyped-up chapters as the leaks were simply unbelievable! The official chapter is out for free at MangaPlus, their official website, and the app. The leaks revealed one major incident but that wasn't the only thing which was in the chapter. Let's look at the summary of the chapter without any more delay. There will be many things revealed down below so get ready to be amazed!
Dragon Ball Super Chapter 62 Summary
So now we have Moro in his brand new form after eating Seven Three and absorbing all his abilities. Vegeta gets overpowered but he's not gonna back down. Gohan and others inform Vegeta about how Moro can copy other people's abilities now but only for 30 minutes. Vegeta is then caught off guard and Moro copies all of his abilities. Moro also reveals that there is no stupid time limit for him as the ability has now finally come back 'home'. Does this mean that it was in fact Moro's original ability? We might get to know about this later on. Well then, Moro just takes care of Vegeta with his own signature move – Big Bang Attack. He then roasts it saying it has such a flashy name for an ordinary ki blast. Now not even fusion will work as Moro can use Vegeta's new move to absorb such energy!
Then everyone tries to fight Moro together but he's overpowering everyone. They all managed to pin him down letting Goku hit a point black Kamehameha but it just managed to destroy his arm which he regenerated immediately impaling Goku. We have no idea if Goku is gonna survive or not. The fight continues and Dende is going to the field to help recover their strength but Moro catches on. Moro then creates a force field to keep everyone outside so no one can interfere.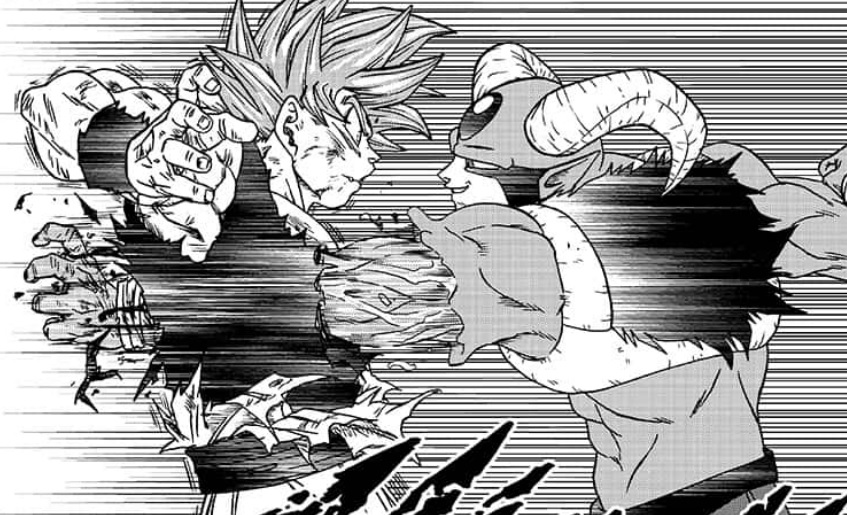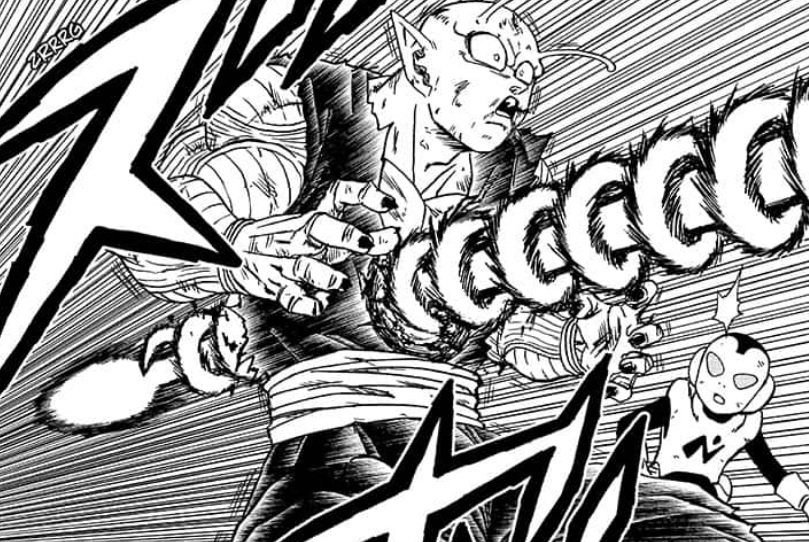 But then Piccolo tries to destroy everything inside the field as to end Moro but Moro immediately stops Piccolo with Special Beam Cannon. It was seriously brutal. Then Moro takes care of all the other fighters except Jaco and thus eliminating all defenders of Earth capable of fighting Moro. When things start looking grim, we are revisited by one familiar face. It's Merus! What is Merus gonna do now!? He can't interfere as he's an angel but will he just sit and watch as Moro massacres everyone!? We will know about it in the next Dragon Ball Super Chapter!