Dragon Ball Super Chapter 61 – Reborn Vegeta & Moro!
The latest chapter Dragon Ball Super Chapter 61 was just released, and it was one of the best chapters of this arc! The official chapter is out for free at MangaPlus, their official website, and the app. This chapter was amazing as we finally got to see Vegeta's brand new technique and also another secret about Moro! Let's look at the summary of the chapter without any more delay. There will be many things revealed down below so get ready to be amazed!
Dragon Ball Super Chapter 61 Summary
The chapter starts with Vegeta fighting Moro but he's not doing considerable damage. All his punches are landing and he's dodging Moro's attacks but something is off. Everyone is thinking about how Vegeta isn't strong enough but Piccolo thinks that Vegeta isn't a fool and he must be doing this for some reason. Goku then realizes that Vegeta is doing something. Then a short while later, everyone realizes that there is a whole ball of energy/souls gathering up in the air. Vegeta reveals his new technique Forced Sprit Fission which allows him to liberate all the souls and life energy Moro stole.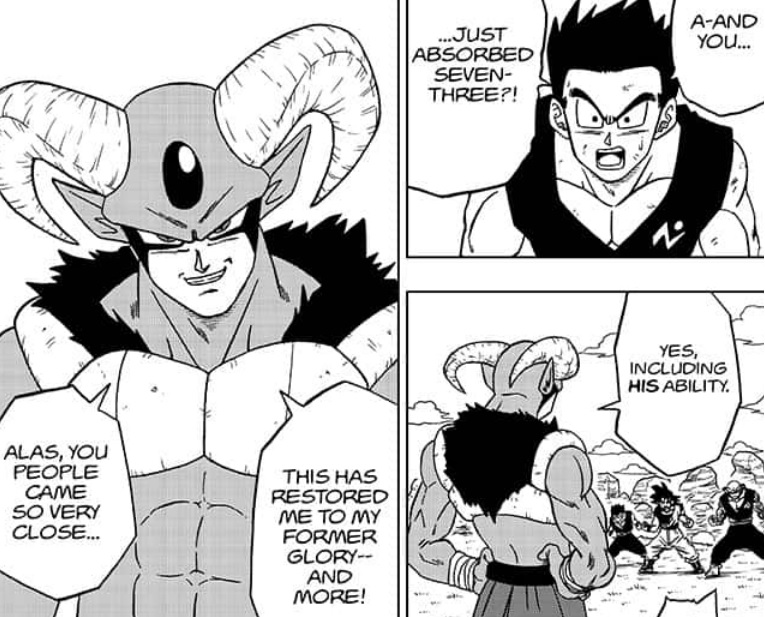 Vegeta sends all the life energy back and beings with potent life forces who died due to energy extraction are revived like some Namekians. The fight goes on and Vegeta asks if it's okay to get rid of Moro and when he's finally going to do it Moro pulls his last resort. He had his whole backup saved in Seven – Three. All his combat abilities, magic, and whatnot. He goes and literally eats him to absorb everything he had. It feels like Cell arc all over again. So we now have a brand new Moro in his brand new form, stronger than ever before! What is our gang going to do now!?