Super Dragon Ball Heroes Episode 1 Detailed Summary!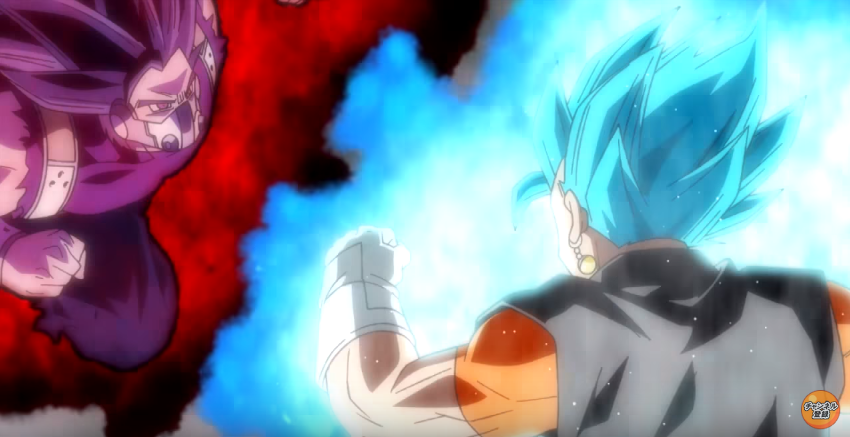 We start the chapter with Goku and Vegeta training with Whis while Beerus is sleeping in his palace. Vegeta and Goku are learning about Ultra Instinct and they are fighting in their Blue forms. As this series is not canon, we cannot really tell if this is just after the Tournament of Power or not. Most likely, it is. Okay, so suddenly Mai appears in the scene with a very mad face. She suddenly tells the gang that Trunks is missing. She thought he was training with Goku & Vegeta but he is not.
Now, here enters the new character – Fu! Mai tells that Fu is saying Trunks is trapped in a place called 'Prison Planet'. Fu introduces himself as a old friend of Trunks and knows everything about Goku and Vegeta. So, Fu is from the future! Whis is surprised and teleport's behind Fu. He says, "This is the first time I am hearing about this place" – really interesting. Fu immediately says, "Oh, so that place doesn't really exist in the past yet." 
This makes Whis quiet all of a sudden. He's not smiling anymore and has a very serious face. Things might get ugly and Whis knows about it. Fu then goes on saying, "Trunks is in danger, let's go and save him right now!". He takes his sword and slashes it in air creating a space-time door, that is a door to a different space to a DIFFERENT time. Goku and Vegeta are ready to go but Supreme Kai is worried and says they shouldn't do this and break the time travel rules.
Just as when he tries asking Whis' help to stop them, Whis escapes saying, "It's time to wake up Beerus Sama. If Beerus hears about Fu & Mai being here, he is going to punish you all very badly. Make sure they are not here when we return. Hahaha!" So typical of Whis. He must be planning something behind as he is indirectly making Goku and Vegeta take care of this matter.
Then there's a very DARK panel of Whis where he's saying, "That person did tell me about the ability of coming and going through time freely. I heard rumors that those people are trying to reorganize history but I never thought it to be true." Whis exits. Whis is referring to the Supreme Kai of Time here so I think she's gonna be canon for the upcoming movie. What do you guys think about it? Well, we are not even halfway the chapter!
We then see Goku & Vegeta go through the portal and reaches Prison Planet. There you can see chains over the planets and Vegeta is curious about it. Then suddenly, a very strong and strange ki appears alerting Goku & Vegeta. Goku says, "It is such an awesome ki! Who is it!?" Here is the part where Xeno Goku Super Saiyan 4 appears!
He shouts, "I found you, Fu!". Seems like Fu tricked Xeno Goku as well into coming to the Prison Planet. Well as our Goku doesn't know whats happening, he tries to block SSJ4 Goku's punch but was sent flying to the side. Goku was in his base form and then he goes on to say, "He's really strong. If I make a mistake, I'm done for! I am going all out!" Goku turns Blue and starts fighting. They both are kinda confused as both of them are their own different version.
They keep on fighting and slowly they realize that they both are different versions of Goku from different time periods. Xeno Goku notices Vegeta and Mai but Vegeta also notices how Fu is acting up. Fu is going all, "Yes! Fight! Fight more!"  Vegeta tries to grab Fu but Fu is too agile and sneaks away. Vegeta asks where is Trunks and what's going on?
Fu then goes on to explain everything. Fu says, "This is an experimental site I made up for a huge experiment. I get interesting people with interesting abilities to come here and fight each other for the sake of research and curiosity." Vegeta then says, "So, you're the one who kidnapped Trunks and brought him here!" and gets all angry.
Fu keeps on saying that he is just doing this because this is fun while Vegeta keeps getting angry. Fu then goes on says, "The experiment will fail if all the procedures aren't carefully followed." Something fishy is going on. Then Fu hands over a 7-star Dragon Ball to Vegeta and tells them that the other Dragon Balls are given to strong looking guys all over the Prison Planet.
He then says that if they want to go back alive to their world and time, they need to gather all the dragon balls. Fu says, "Exactly! The purpose of this experiment is a Dragon Ball Free-For-All among the strongest fighters from all space & time!" Fu is really crazy but this setting is kinda similar to the Dragon Ball Super movie, isn't it?!
Fu then leaves after telling one last thing that Trunks is still alive, well at least for now and is maybe struggling to get out of here. Then we see Trunks sitting in the Prison Cell thinking about what he's gonna do to get out of there. Then, a massive explosion occurs making Trunks' Prison Cell gate explode.
An unexpected person appears – COOLER! Cooler says, "You have a pretty strong ki, huh?!". He somehow rescues Trunks in a way but Trunks says, "Who are you?!", to which Cooler replies as – "How about you start by giving me your Dragon Ball?" and the chapter comes to a close!
How about it? How did you guys like this? It took me a long time to go through the translations and get this done for you guys. We are going to see the Evil Saiyan most probably in Episode 2. Also, if you're thinking what's the outcome of SSB vs SSJ4, SSB is going to win most probably according to spoilers(90%). Well, let's just wait for the episode now!