Oda Reveals How Ace & Luffy Would Look Like In The Future!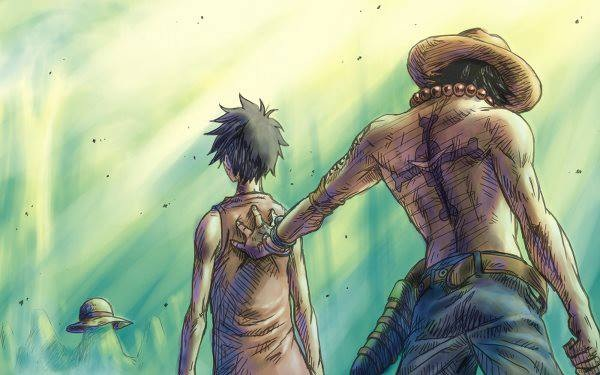 One Piece is one my favorite manga and it's still gonna take many years before it comes to an end. Our main protagonist is very young right now and possible we won't see him as some old man until the end of One Piece. Now doesn't that makes you wonder, just how would Luffy look like when he hits old age?
Well, you're not the only one with that thought. Many people, countless times have asked Oda the same question and also asked him to show illustrations and some other things. Most of the time, the question wasn't received well and we never got any definite answer. Well, that is the thing of the past now as Oda finally answered.
On top of that, someone asked about the future of Ace too if he was still alive, how would he look at the age of 40 and at the age of 60, etc.. Obviously, Oda delivered and it's pretty awesome to see the illustrations now. He gave 4 illustrations for both Luffy and Ace, depicting how they would look in the future.
Q: I'm a huge huge huge fan of Ace. If he didn't die during the Summit War, what kind of face would he have? Please draw him at age 40 and age 60, Oda Eiichiro-sama~!! P.N. Daughter of Ace of the Whitebeard Crew.  
Oda: Got it. Oda drew 2 scenarios. The first scenario is where nothing goes wrong and Ace is a jolly pirate and he is following his principles and enjoying his life. Oda also added some text with the illustration. Age 40: Yo Luffy, still the same as always; Age 60: I'm retired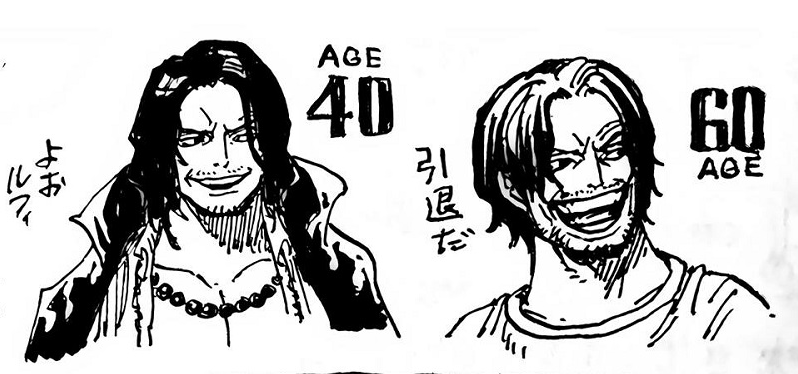 The second scenario is where something happened to Ace or something went wrong which led to this twisted personality Ace to come up. The face is itself pretty disgusting if you ask me. The text reads as – Age 40: Osu Luffy, lend me some money; Age 60: Chopper, just a little bit from the safe….

Now let's get into Luffy's! Q: Odacchi, hello! I am a big fan of both Odacchi and Luffy. I have a question today for Odacchi! When he was a kid, Monkey D. Garp's eyes were the same as Luffy's, big and round. However, when he became an adult, they became narrow. So what about Luffy's eyes? Once he turns 20, will his eyes also become like Garp's?
Okay, this question comes from a translator in Vietnam in slightly different words. In short, will Luffy's eyes become skinny like Garp's once he turns 20? Oda answered as – Since he turns 20 in only a year, I don't think Luffy will be changing too much in such a short time.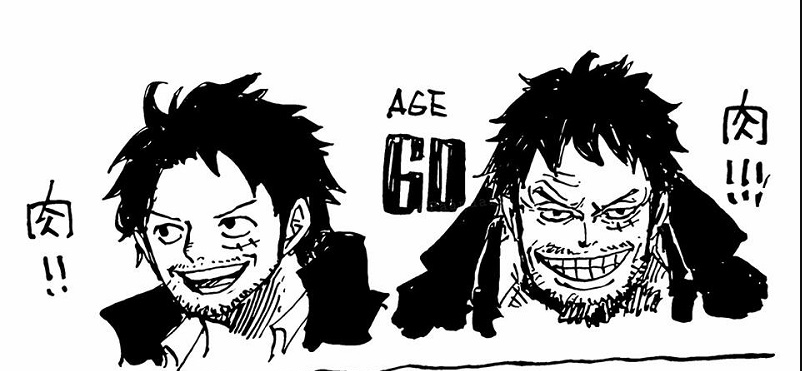 Age 40: Meat!!; Age 60: Meat!!! Yes. In a future where things go well, he looks quite a lot like Garp doesn't he? But in a future where something, somehow happens then who knows!!  Well, let's see it!   Age 40: Pirate king? It sounds like a dream;  Age 60: Oh? Did you bring good meat?