Dragon Ball Super Chapter 54 – Vegeta's Special Training!
The latest chapter of Dragon Ball Super was pretty exciting as it showed our old friends back in action. Piccolo, Jaco, and the rest of them fought pretty well while our main heroes are in their special training. The latest chapter was just released and you can read it on Mangaplus or Viz. The next chapter will also be pretty crucial as it would actually reveal what has Vegeta learned at Yardrat. Well, let's see a brief summary of the latest chapter before we go into Dragon Ball Super Chapter 54.
Dragon Ball Super Chapter 53 Summary
The Z fighters on Earth are waiting for Jaco to get a hold on the whole situation. Jaco comes with Esca and explains everything. With the help of Galactic Patrol, they found out who all are approaching the Earth. Yunba, Shimorekka, and Seven-Three are coming to Earth. Seven-Three is an artificial lifeform made by some high-tech species. He can copy any species ability for 30 minutes if he's allowed to grab their necks. He also has infinite stamina so he's just a killing machine with whatsover no emotions. The three of them arrive and start fighting our heroes. 73 suddenly without wasting any time copies Piccolo's ability. Krillin, Jaco, and Piccolo fight head-on with them but Piccolo is having trouble with 73. Gohan steps in to save Piccolo and then we switch back to Goku and Vegeta. Goku is being beaten so badly by Merus while Merus doesn't have a single scratch. Merus says that Goku might activate UI again if he's in a near-death condition while Vegeta is having trouble with all the meditation training on Yardrat.
Dragon Ball Super Chapter 54 Spoilers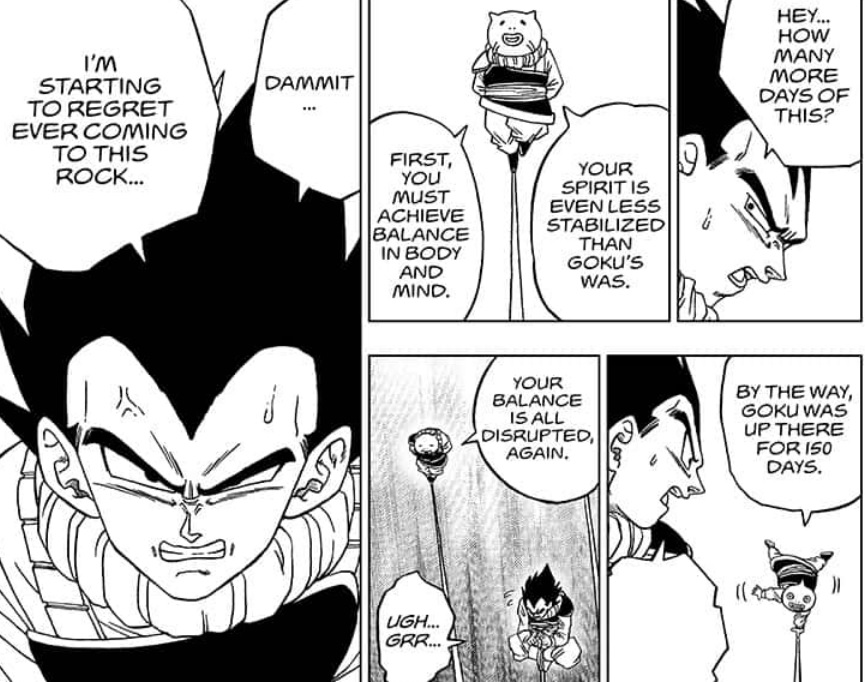 Dragon Ball Super Chapter 54 will most probably focus on Vegeta's training as he cannot stay there for 150 days. We might also see Gohan vs Seven-Three on Earth and if we are lucky enough we might see a glimpse of Ultra Instinct in the next chapter. Dragon Ball Super Chapter 54 will be crucial as the it would set the direction and pace of the arc. If Vegeta can complete his training, we might see a faceoff with Moro before 2020 starts! Well, I am just so excited about this whole arc. Everyone is doing their own thing and we don't know who will succeed and who will fail!
Dragon Ball Super Chapter 54 Release Date
Dragon Ball Super Chapter 54 will be out next month. Dragon Ball Super Chapter 54 release date is November 20, 2019 (Official Release). The raw scans and spoilers will be out by November 18, 2019.  We will let you guys know if there's any other update!