Dragon Ball Super Chapter 58 – Goku Has Finally Done It!
I can't wait for the climax of this arc. Goku is here and Vegeta will also come pretty soon. These last few chapters have been so good. We got to even see Yamcha in a new light and all the Z fighters were together with the androids. Everything is going good but I think it's high time to end this whole Moro arc. We need to see how they will actually fight Moro and it seems like Dragon Ball Super Chapter 58 has the answer! Let's see a short summary of the chapter first. You can read the chapter for free at MangaPlus, their official website and app!
Dragon Ball Super Chapter 58 Summary
The chapter started with Goku coming and defeating all the other prisoners which were giving our Z-fighters a tough fight. Then he finally goes to fight Saganbo who was overwhelming the androids, Gohan and Piccolo. Goku came in hyper-speed to knock him out. Moro and Jaco identified that it was Goku. Goku started fighting Saganbo in his blue form and took care of him easily. Saganbo still wanted to fight him and Moro gave him even more power. Goku told him not to do that as Saganbo's body wouldn't be able to handle it but Moro said that he wants to see Goku's new gained power first. Then Moro takes care of Saganbo as he wasn't able to fight anymore and then Goku revealed his newly gained power. He finally got to master Ultra Instinct Omen!
Dragon Ball Super Chapter 59 Spoilers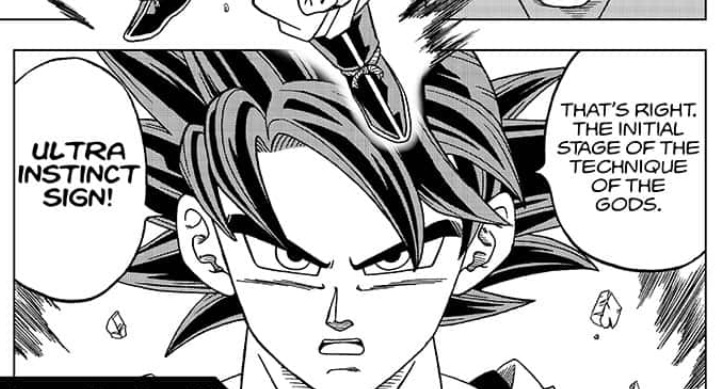 I think in Dragon Ball Super Chapter 59 I think they are going to show how far has Goku reached in his Ultra Instinct training. He has gotten tremendously stronger but I think there's more to it. He has finally mastered Ultra Instinct Omen that he can now use it on his own will without any trigger. In Dragon Ball Super Chapter 59, I want to see Vegeta as well. Vegeta needs to get a new power up to match Ultra Instinct Omen Goku. I think his soul power training might give him a tremendous 'ki' / energy power up.Well, let's see what happens in the next Dragon Ball Super Chapter 59!
Dragon Ball Super Chapter 59 Release Date
Dragon Ball Super Chapter 59 will be out next month. Dragon Ball Super Chapter 59 release date is April 20, 2020 (Official Release). The raw scans and spoilers will be out by April 18, 2020.  We will let you guys know if there's any other update!